Via: http://www.nbc.na/articles/10591/NESA-to-stage-internet-gaming-competition-in-September/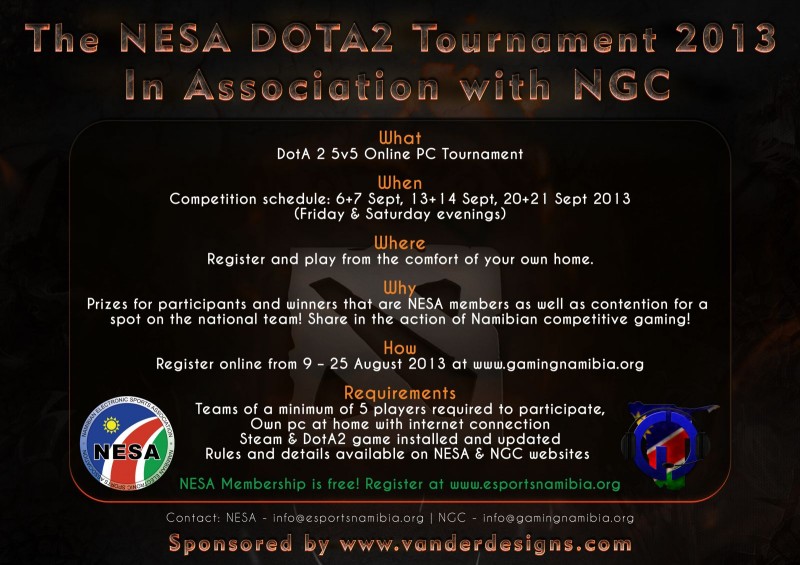 By: Lesley Tjiueza
Namibian online gaming enthusiast are in for a treat in September when the Namibian Electronic Sport Association (NESA) holds a series of competitions which will played from the comfort of the participating players homes via the internet.
The competition is open to any individual owning a Personal Computer (PC) with the required software of steam Application and the latest version of the Defence of the Ancient2 game are encouraged to register.
Registrations, rules and details are available online at www.gamingnamibia.org until 25 August 2013.
According to NESA electronic gaming has made its way to the personal computer (PC), console (Playstation, X-Box and various mobile platforms. The competitions will allow casual and competitive gamers to participate in a variety of platforms and games. A diverse selection of individual and team based games are available to NESA members across a number of events.
The competition which has N$3 000 in prizes is sponsored by www.vanderdesigns.com and Evolve IT (www.evolve-it.net).
NESA is the governing sports body that facilitates and coordinates electronic sports (e-Sports) activities within Namibia. Committed towards the promotion and development of competitive gaming, this non-profit organization strives towards establishing e-Sports as a locally valued sports code with respected international rankings. Affiliation with the International e-Sports Federation (IeSF) allows for the proud Namibian representation and participation in the international arena.
Any additional queries can be sent to [email protected]