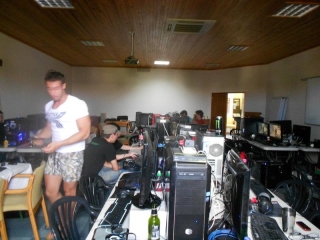 When: 09.03.2012-11.03.2012
Location: Rössmund Golf Club, Swakopmund, Namibia
Personally I would like to thank:
Peter Louw (Rossmund Golf Club) for allowing us to play at the most awesome venue ever.
Matthew Smit for finding the best venue ever and advertising the Lan.
Corne van der Westhuizen & Walt van Staden (My wingmen) for supplying an uber 48port switch and helping with the layout and cabling of the Lan and also setting up a projector and live streaming of matches.
Dwaine Saunderson for helping me with the comp. config for COD Promod 2.11.
Jonathan Steinbach for fixing the Punkbuster problem in the server.

Last but not least, everyone that showed up. You where a great bunch of guys and girls and the atmosphere is what made this one of the best Lans I have been to!
Even though I was involved in organizing this epic event, I must say, It was a success and went better than we hoped!
The games:-
Cod4 Promod
Cod 4 Was dominated by Core 1+2 teams, annihilating the local guys in all match ups, resulting in a very exhilarating and entertaining final between Core 1 and Core 2, that was observed by the local guys on the big screen while sipping some ice cold beer :).
Core 2 fought hard and brave and almost managed to cause an upset, but Core 1 where just too determined and hence the results below:
Results:
COD 4 Promod 2.11:
1. Core 1
2. Core 2
3. RM
4. HwC A
5. P+P
6. HwC B
7. Odd Ones
Counter Strike:
As for Counter Strike; hunger and fatigue on Saturday late afternoon got the better of everyone and we decided to take a 2-3 hour breather to braai some meat and some went into town to try the local restaurants 🙂
We did have a friendly Core 1+2 vs HwC A+B afterwards though; HwC made it clear that they will not go home as total losers and posted a convincing 15-2 win over the Windhoek guys.
DOTA:
Everyone was scared and did not want to play against clan RM. Ok, not really, again, Dota also fell prey to the fatigue and hunger factor mentioned earlier, but we are all pretty sure that RM would have dominated 🙂
This was a friendly event organized by friends to have fun, and we achieved just that.
Next time the event will be better organized and we will improve the layout as well.
We will also have the server's setup and working without faults now that we know how, and run the different game's matches parallel to the other games so that we save time and finish all tournaments as advertised.
We will also make sure that we arrange accommodation at the Rosmund Lodge to minimize the risk of traveling in the early morning hours after the Lan.
I just want to say in closing, from HwC to all the others that came and showed us that Cod4 Promod is actually not that bad, THANK YOU! This is the first time we played Cod4 Promod and we where overwhelmed at the amazing skill that you guys showed in effortlessly fragging the hell out of us!
We will make it our mission to get everyone to get the game and start practicing for the next event!
Cheers
Corne Kotze